RELATING WITH GOD'S PEOPLE
Tools to help you grow in relationships that build you up in God
"And let us consider how we may spur one another on toward love and good deeds, not giving up meeting together"
– Hebrews 10:24-25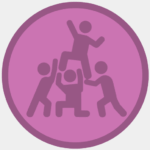 RELATING
WITH GOD'S PEOPLE
This is about knowing we're in it together. We SPEND TIME with Christians, we commit to each other and to DEEP RELATIONSHIPS, and we make ourselves ACCOUNTABLE to each other to spur each other on with Jesus.
1. BEING TOGETHER
JOIN A GATHERING
This one is fairly simple! Regularly participating in a worshiping community is the best way to do it. You can find out about Gold Hill's different Sunday gatherings here. Find one, and commit to it, getting stuck in.
HOW TO GO TO CHURCH (4 session guide)
It might seem strange to have a guide on how to go to church. But there can be far more to 'going to church' than simply attending at the right place and time. At times it can feel a bit stale, but there is so much we can gain and so much we can give others if we approach being part of a church gathering in the right ways. This guide explores four aspects of how we can 'go to church' in the very best ways. Download here.
2. COMMITTING TO EACH OTHER
JOIN A LIFE GROUP
We can't build good relationships with lots of people all at once, but in a smaller group of people we can. We really encourage you to find and commit to a Life Group. If this is something you would like to do, and you aren't part of a group already, please find out more here and fill in the form there so we can be in touch.
[coming soon] 'HOW TO START A LIFE GROUP' (guide)
It might be that you are keen to be part of a group, and know others who are too. You don't have to slot into an existing group, and it might be best for you to begin your own together. Very soon, we will have a short guide with some tools and things to explore together to help you start up a new group from scratch.
HOW TO TREAT ONE ANOTHER (sermon series)
The New Testament has many things to say about how, as Christians, we are to treat and relate to one another. In 2021, we had a sermon series going through a number of those, and it was a really helpful set of reminders about our relationships, covering love, honour, forgiveness, prayer, spurring on, serving, etc. We recommend this series to help you decide how you will commit to others. Find the series here.
3. BEING ACCOUNTABLE
TRANSPARENT: BUILDING ACCOUNTABILITY (guide)
If we want to get further and go faster in our relationship with God, we simply cannot do it alone. Larger and smaller groups are good, but there are things that can be best achieved in an even smaller setting than that, with just 2 or 3 people. Being totally open and transparent, and sharing some of the deeper parts of your life can be so important, and this guide gives you some starters to get that set up in your life. Download here.