This Sunday, we have a range of Sunday Gatherings running. To find out a bit more about what they're like, click here. Below are some details about what is going on at each of them this week.
8:45 am
We will be sharing communion this week, as we do every week. As we are still being sensitive around Covid, if you are able to bring bread and juice with you, that would be wonderful, though we can provide for you if that's not possible.
The teaching will be from Luke 6:43-49
10:30 am
We will be gathering to worship God together in the main auditorium. We are continuing our series on "More Like Jesus", looking at Luke 7:18-35 "Doubters, skeptics and cynics"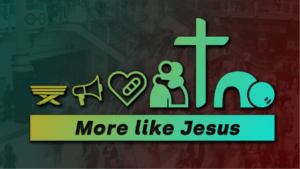 Hope Cafe (4 pm)
Meetings of Hope Cafe are currently paused.
7 pm – celebration
Our 7 pm gatherings are not currently being held on a weekly basis. However, this Sunday 22nd May, 7 pm will be a time to gather and worship God together in a contemporary and celebratory atmosphere/style.
This will be repeated on 19th June and 17th July.
Breathe (6 pm)
If you are Secondary School age, then Breathe is for you! We will have games, worship and a short talk.