Each year at Gold Hill, we set a prayer focus for the year, praying for an 'Unreached People Group' in the world – people who have not had access or the opportunity to hear or respond to the Good News of Jesus. This year, our focus is on the Deaf.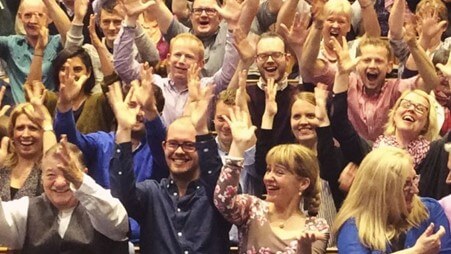 Imagine, for a minute, that when you're born, your family are unable to communicate with you in your language and you're unable to understand theirs. (90% of D/deaf children are born into hearing families.) Imagine as you grow up that your parents need to pay large sums of money to be able to learn your language whilst you remain unable to learn theirs. Imagine that, in order to access education, you need to either travel a long distance or attend boarding school to be with others who speak your language. And within your local family community, no-one else your age is able to communicate with you. Imagine never being able to have a doctor's appointment, meeting, telephone conversation, therapy session, meeting with your child's teachers, emergency dental appointment or any other interaction without a third-party there to interpret for you. Imagine decisions being made for you where you have no say in them, even as an adult. What you're imagining is a very small insight into the life of a Deaf person.
Now imagine trying to introduce the gospel to a Deaf person.
If your first thought was around assistive technologies like hearing aids and cochlear implants, these are not always suitable or chosen by people who are Deaf. The Deaf community has a rich language and heritage and, whilst some are able to use assistive technology, others are not and even if they were, they would not see themselves as disabled but privileged to be part of such an amazing community and culture. And to expect someone to conform to your spoken language in order to belong or be included or to hear about the love of Jesus does not value them as the deeply loved child of God that they are, created in His image.
There are around 135,000 Deaf people in the UK and between 30 and 70 million worldwide. As such, they are one of the largest unreached people groups in the world. Focussing for a minute on the UK, there is no Bible in British Sign Language (BSL.), although there is one in progress, through the BSL Bible Translation Project. BSL Bible – The Bible in British Sign Language. Imagine not being able to read the Bible in your own language. Whilst some in the Deaf community are able to access English in written form, this is not true across the board. If the Bible isn't available to you and the person in a church speaking about and from the Bible doesn't speak a language you can access, how can you learn about the love of Jesus?
Whilst this focus is on the Deaf (signing) community, we are widening the prayer focus to also include those who are deaf and/or hard of hearing, or deafblind. To clarify, those who are Deaf in the UK are sign language users. Those who are deaf and/or hard of hearing have made the choice to use assistive technologies to access sound and some will sign and/or lipread as well.
To give some context:
1 in 5 adults in the UK are D/deaf or hard of hearing. That's around 12 million and rising.
90% of deaf babies are born into hearing families. There are around 63,000 deaf children under 18 in the UK currently. 10% of these families go on to learn BSL.
Deafness is the third most common disability in the world – but you probably wouldn't be able to spot them in a crowd.
40% of D/deaf people have other additional needs.
D/deaf and hard of hearing people are 60% more likely to have poor mental health than hearing people.
D/deaf and hard of hearing people need scripture available in their heart language and church community to be interpreted in order to even begin to access faith. Access is not the same as belonging.
Where can you find out more?
We're going to explore this much more together as a Church over this year. In the meantime, the links at the bottom of the page may give you some insight as to what life is like for someone who is D/deaf or hard of hearing.
For prayer:
Pray for our hearts to be stirred to action.
Pray for an acceleration of the Bible being translated into BSL.
Pray for access to learning sign language to be wide open and without cost, removing barriers to families and people in the community who would love to learn this rich language.
Pray for open hearts and open minds, that we might be willing to move beyond our own levels of comfort in order to create community for those in need of experiencing the love of Jesus towards them.
Pray that whoever needs to hear the love of Jesus through those who belong to Gold Hill would find us willing to first show them that love lived out towards them, whatever the personal cost may be to us.
Helpful resources for further information
Navigating deafness in a hearing world | Rachel Kolb | TEDxStanford
Embracing our Limitations | Justin Osmond | TEDxRexburg