Around the world between 15th -24th September followers of Jesus will be taking time to fast and pray, turning to God in repentance, worship and praise. As a church family, we are choosing to join this global prayer time and turn personally and collectively to our Father in prayer, repentance and worship. Can we encourage you to take time to turn off computers or devices and pray? Turn away from sin and repent. Turn down certain things as you fast and turn to God in prayer and worship and seek Him for renewal and revival.
TURNING is an opportunity to pause intentionally and take time to seek God at a personal level, for our church, local community, nation and the lost. Turning to God, Turning from distractions and excuses, Turning towards God's promises and Jesus' return.
One of the keys to taking 10 days of Turning to God is to consistently build in a daily corporate time of prayer and worship, with fasting. Many who have taken the 10 days intentionally have experienced a sense of going deeper in their faith journey, of love for God and others. Hour by hour it can be like a journey to the core of who we are and an opportunity for realigning our choices to be biblical and express full devotion to Jesus.
During the Turning at Gold Hill this Autumn, together we will seek God for what He is building into us as a church family as foundational blocks:
Bible Saturated
Reliant on the Spirit
Expectant in Prayer
People focused
In addition to the prayer times detailed below there will be breakfast prayer times and other resources provided. Zoom links will be added to this page.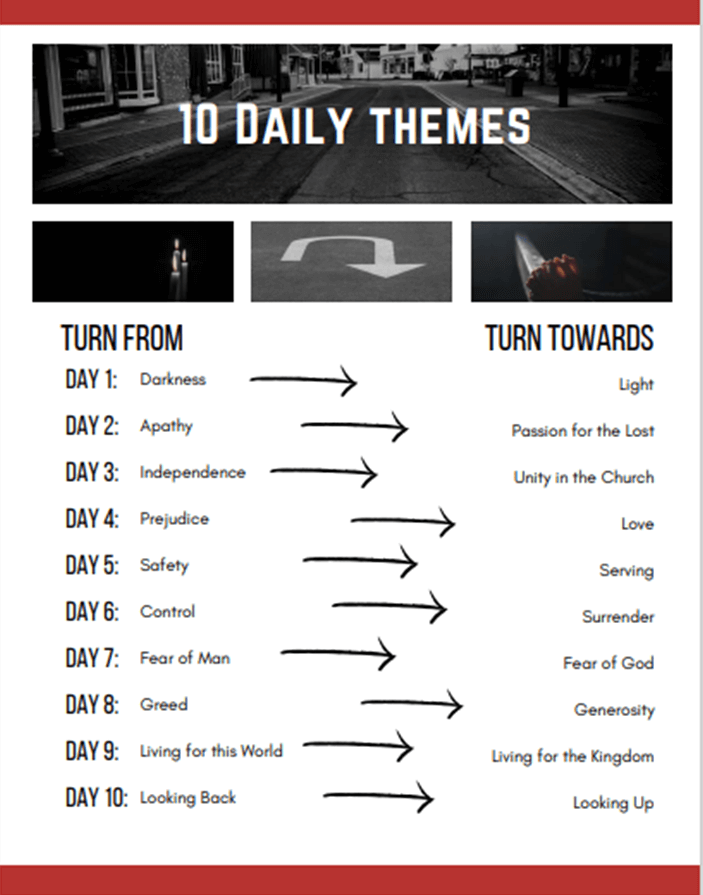 Sept 15
TURN DARKNESS TO LIGHT IN YOUR NEIGHBOURHOOD
Take a prayer walk around your neighbourhood today. If you see any neighbours, engage in conversation and ask, "What is one thing I could pray for you right now?" 1 PETER 2:9-10
Sept 16
TURN FROM APATHY TO PASSION FOR THE LOST
Go visit a different culture restaurant, shop, or neighbourhood in your area today. Prayer walk the area and speak love and life over those in that culture. MATTHEW 28:18-20
Sept 17
TURN FROM INDEPENDENCE TO UNITY
Call and invite a new friend, family member, or acquaintance to join you for your next prayer gathering. GALATIANS 3:28
Sept 18
TURN FROM PREJUDICE TO LOVE
Spend focused time asking the Lord to show you people you've had bitterness/unforgiveness towards; go to them ask for forgiveness and make restitution, if appropriate. PHILIPPIANS 2:3-4
Sept 19
TURN FROM SAFETY TO SERVING
Make a sacrifice today to serve someone else in a practical way, especially an unbeliever. (Ex. Volunteer at a homeless shelter/foodbank, visit a nursing home or the elderly, etc.) ROMANS 15:20-21
Sept 20
TURN FROM CONTROL TO SURRENDER
Ask God to show you areas of your life over which you are clinging to control. Spend 5 minutes in silence listening to the Lord. Write on paper the areas you need to release to the Lord, then, burn or rip up the paper, symbolically releasing it. 1 PETER 4:1-2
Sept 21
TURN FROM FEAR OF MAN TO FEAR OF GOD
Tell your story (testimony) of God's faithfulness and forgiveness to someone new today. PSALM 128:1-4
Sept 22
TURN FROM GREED TO GENEROSITY
Create a homemade gift or food and give to a neighbour or someone you wouldn't normally give to, or give a monetary gift anonymously. 2 CORINTHIANS 9:10
Sept 23
TURN FROM LIVING FOR THIS WORLD TO LIVING FOR THE KINGDOM
Go through your phone/computer and delete/remove distractions that take up time but are not Kingdom centred. (Ex. Smart Phone Games, Social Media, DVD's, etc.) HEBREWS 6:10-11
Sept 24
TURN FROM LOOKING BACK TO LOOKING UP
Set your eyes upon the return of Christ. Talk with your community of believers about how you can actively fill your lamps with oil and be prepared for the return of the Jesus Christ our King of Kings. 2 TIMOTHY 4:8
10 days Internationally
10 days is an international prayer initiative with the vision of creating a "Global Upper Room" of worship, prayer, repentance, and fasting. It is a season to reset and realign ourselves with the start of a new (academic) year and intercede for our cities and nations.
The 10 Day Personal Challenge
Yes, I want to take the 10 Day Challenge from Sept 15-25, 2023! (begins the evening of Sept 15)
I plan to fast from food at some level (Daniel Fast, Juice Fast, Water Fast, eat one meal a day, or other fast)
I plan to devote myself to prayer, worship, and repentance with other believers
I plan to take time off from work for the purpose of prayer and worship
I plan to take #10daysoff from social media and entertainment so I can be devoted to God's voice and God's word
Keeping it up after 10 days
This website contains other resources and ideas to support your prayer life.
Do you know about Gold Hill's daily prayer prompts?
A small team at Gold Hill writes prompts for prayer each week, which are sent via Whatsapp, on weekdays, Monday to Friday at 7am. If you'd like to receive these, just sign up, by adding 07593 365431 to your phone contacts, and then send a message "Sign Up" via WhatsApp.