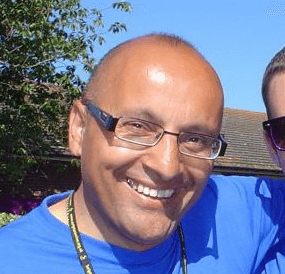 posted by
Avtar Hunter-Singh
24 July 2020
Every year, Minnis Bay happens in Kent – it is a huge undertaking, reaching children, young people and families with God's love and good news on the beach. As a church, we have a long history of supporting this great work, and many of the volunteers come from Gold Hill. This post is from Avtar, part of our church, who leads the mission there.
I hope that this finds you well. The 2020 mission in Minnis Bay is now only a few weeks away and it will look very different to any other year. Due to the coronavirus pandemic, it will be run on line, virtually. The dates are Sunday 26th July to Friday 31st July.
The preparations have gathered pace and team members have been busy recording bible stories, dramas, worship workouts and much more. The bible verse that will wrap this year's mission is taken from Psalm 33 verses 20-21. Here, we are reminded that our hope is in God, He is our help and shield. Wow, what amazing biblical truths.
We wait in hope for the Lord;
    he is our help and our shield.
In him our hearts rejoice,
    for we trust in his holy name.
We have re-organized the programme to maximize impact for the kingdom. There will be an under 11's (family programme, with bespoke activities for the different ages of children), an 11-15 and 16-18 programme. The former will contain pre-recorded material which will premiere each day and the latter will be a combination of pre-recorded and 'live' sessions on the communication platform Zoom.
In addition, there will be challenges (including sand modelling), an adult recipe corner and a children's choir. All the under 11's who attended last summer will each receive a craft bag of activities to do during the week. You will be able to access ALL the pre-recorded material via Facebook (Scripture Union – Minnis Bay). If you turn on your notifications, you won't miss a thing.
God has once again blessed us with a strong team of people looking forward to serving Him. Many are returning but new faces will also be joining us. Here is the 2020 programme which shows the various scheduled activities that will be taking place during the week. We are praying that the programme will minister into the lives of many.
While the mission will be run on line and therefore require less financial resources, there will be running costs that will need to be met. You might be aware that the mission at Minnis Bay relies on gifts to support the work that takes place. We praise God for covering the regular expenses again last year. If you would like to make a gift towards the cost of this year's mission, then get in touch and you'll be put in touch with me.
We thank you, as always for your kindness and trust that you will be able to join us on line. There is no doubt that many first met Jesus at Minnis Bay. Let us pray that the message of the theme this year will be received into the hearts of those who take part in the activities.